FireFoxSend
It is not news anymore that technology has come a long way to advance the way things are being done on the internet. Many years ago, it's usually not easy for an individual to host a file on the internet. This was one of the challenges I had any time I tried to send a file to someone via the internet. Back then, if I need to send a picture to someone, I have to upload the pictures on Facebook first, then, send them the Facebook link to download the pictures. One of the limitations I had back then was not being able to send MP3 files. This was because Facebook didn't support the upload of MP3 files. Because of that, I had to use a different hosting site (An MP3 hosting site). The process I just explained isn't recommended. Because, you'll end up having different links for different file formats, which is not portable for file transportation. One of my wishes back then was to discover a website that supports the hosting of files regardless of their formats.
I got so used to a platform's text editor a few months after I joined it, I literally turned it into a pic hosting website. And yes, it works well. Although, it wasn't what I was looking for. But it's far better than hosting with Facebook.
Months later, I found out about Firefox Send; "A Simple, private file sharing from the makers of Firefox." From its definition, you can tell that it's a project by one of the developers behind the popular browser of our time.
From the project's repository, it was further explained that Send is "A file-sharing experiment which allows you to send encrypted files to other users." However, I believe the project is more than what they said it is. This is one of the reasons why I have decided to introduce the projects to my blog readers and I promise to share the experience I had with it the best way I can.
To my best understanding, Send is a web tool that lets its users upload files for an easy transfer. It's an online tool that automatically generates a sharable link for an uploaded file. Also, I can say that it's an online tool for private hosting. I will talk more about its key features later in this post. But for now, let us discuss its landing page.
landing Page
One of the things I look out for on a website's landing page is how simple, detailed, and organized it is. Accessing Send's landing page brought back the awesome feeling I get when I'm on a nicely developed website. The texts and buttons on its interface are well-positioned. Also, the color combination on its interface is a brilliant decision.
Looking at its competitor's interface, its colors aren't great enough. However, the landing page has enough details about the website than the details on Send's interface. The images below are the screenshots displaying how both websites look.
From the first image above, you can see that it has a button to upload a file, while the second interface doesn't. Instead, its screen is full of paragraphs of texts explaining the functions of the project. At the bottom of the page, it has a button that redirects users to another interface where an upload button is found. This simply means that Send can complete its operation on a single interface, while its competitor can't.
Uploading A File
While I looked at the first screenshot in my previous paragraph, the very first action that came to my mind was to upload a file with the buttons displayed on its interface. And yes, this is the main aim of the project (uploading of files). The only question that comes to my mind at this point is;
How was the developer able to inject this thought into me?
Well, I believe it's because of how the project's interface looked. After I looked at its competitor's interface, I have to conclude that Send has a more attractive interface with the required buttons to perform an upload than its competitor. Clicking on the plus sign (+) button or on the button that says Select File To Upload will pop up the different file managers installed on your device. In my case, the screenshot below is how it displayed after I clicked on the button.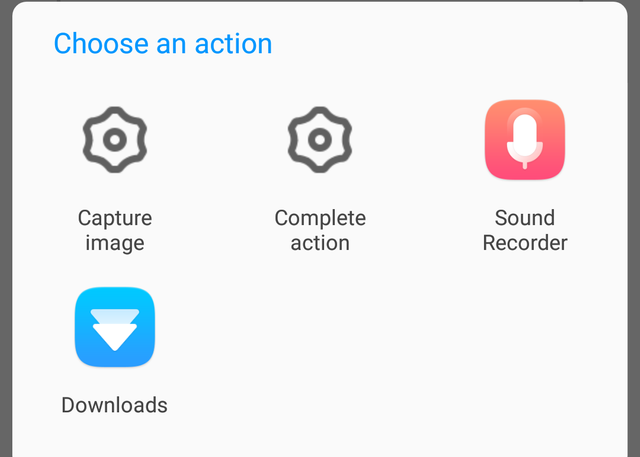 Things weren't different from its competitor's interface, except that it only has a single button for uploading, while Send has more than one.
Another common feature that I love most on both projects, is the ability they have for anyone to host a file without being a member. This means that anybody can come at any time to host any file without being a member. However, there are restrictions as not being a member on Send, while there isn't any restriction for anyone using its competitor.
It's clearly stated on Send's landing page that a free user is allowed to host 1GB size of files, while a registered user will have the chance to host up to a 2.5GB size of data.
Just like I have said, it's a different case with its competitor because everyone has the privilege to host an unlimited size of files (The maximum size isn't stated so I assume it's unlimited).
After I selected a file via my file manager, I was shown other amazing features that prove that FirefoxSend is an encrypted hosting platform. The first screenshot below is an interface of Send after I selected a file. The second screenshot displays how its competitor's interface looks after I selected the same file.
on FirefoxSend's interface, there is another upload button that displayed immediately after the file I have selected. This feature is useful when users decide to upload another file alongside the first file one. This feature is also available on its competitor's platform.
As a user who aims at initiating a private file hosting with FirefoxSend, I was given the privilege to decide the maximum amount of downloads my uploaded file can get before it expires. There's another option that gives me the option to select the days before it gets expired. As if those features aren't enough, the last option on FirefoxSend which enables its users to embed passwords into their files is also available on GoFile. This simply means that even if when random users get the link to an encrypted file, they can't view or download it except the have the password.
Somewhere in this post, I stated that FirefoxSend provides its users with an upload button even after they've selected a file to upload. After I used the upload button to select another file, I noticed that the total file size incremented. The part of the screen that shows the total file size to be uploaded is very useful. It helps to know if the user is about getting to the maximum size permitted by the platform. The screenshot below is an interface that displayed after I uploaded the files I selected.
The screen displayed above has the link (https://send.firefox.com/download/3774bef6ae383e7e/#KHPRNd0l88LKZIBzxIDGQA) to my encrypted file, and a button to copy it. As the user who hosted the file, after clicking on the button, it displayed an interface to download the file. As for other users, when they access the link, it should display to them an interface that requires them to insert a password. Although, as a host, it requested for a password after I clicked on the Download button.
Conclusion
I prefer to use a platform with the most secure options to protect my files online. Also, a platform with a perfect design and fewer options is preferred. This is why I have chosen to use Firefox Send. I recommend it to anyone reading this.
---
---
---
---
News
News
News