Dolphin Tale - CINEMABLEND
Family, according to Urban Dictionary is a group of people, usually of the same blood (but do not have to be), who genuinely love, trust, care about, and look out for each other, not to be mistaken with relatives sharing the same household who hate each other.

While thinking about what write up I could put in for this competition, I stumbled on a movie on TV, titled "DOLPHIN TALE", it was inspired by the true story of Winter, a bottlenose dolphin rescued in December 2005 off the Florida coast and taken in by the Clearwater Marine Aquarium (CMA). Winter lost her tail after becoming entangled with a rope attached to a crab trap and was fitted with a prosthetic one, The film was released on September 23, 2011, by Warner Bros. Pictures.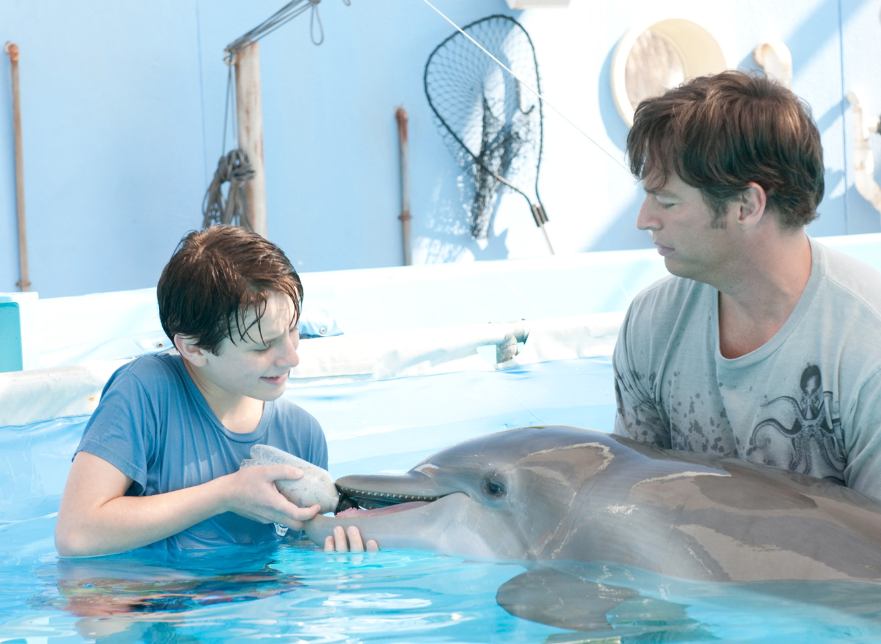 A Gist On The Movie.
An introverted 11-year-old boy named Sawyer Nelson, abandoned by his father and also behind in school was the movie Hero. Sawyer with the help of a fisherman, a marine biologist, Dr. Clay, his daughter, Haley, Sawyer's cousin, Kyle, Dr. McCarthy and a host of others gave hope to Winter(a dolphin), entangled in a crab trap and suffered tail loss, by providing her with a prosthetic limb which restored her ability to swim and also saved her from impending death. Sawyer's devotion to saving Winter (which is what family would do) and his zeal inspired the others who joined him and together as a family to Winter helped her through the rough path.
Series of unpleasant happenings threatened the hope for a happy ending and the success of the team on their quest; Sawyer's cousin, Kyle who doubled has his only friend lost his limbs in an explosion, CMA, where winter was housed, was hit by a hurricane (the facility was already in financial peril prior to the disaster) and the facility was to be closed and sold, which meant Winter would lose her home, the prosthetic limbs created didn't all also seem to be appropriate for her.
A little girl with a prosthetic limb whose mother drove her 8 hours from Atlanta, Georgia to visit Winter, however, puts a twist to the story as it inspired Sawyer to come up with a "Save Winter Day" to save the facility and in the process he understood the reason no prosthetic limb seemed to fit winter and this helped in creating the final version that eventually fitted her.
Sawyer sure got rewarded; his teacher gave him school credit, allowing him to pass summer school, the real estate developer decided to keep CMA open and to support it financially, alongside the donations recovered from the event.
Life Lessons From The Story.
Sawyer suffered rejection by his father, but still didn't stop himself from showing affection, he became family to winter and didn't hold back his love. Despite being harassed by the pelican at CMA, he wasn't discouraged, he stood his place and kept visiting, that's what family will do.

NEVER STOP LOVING

Even though it looked impossible to save Winter from impending death, Sawyer through devotion with the help of Hazel thought out ways to save her and of course, their zeal persuaded others to join in the quest.

STAY DEVOTED TO THE ONES YOU LOVE

The period when Winter kept rejecting the tails was a depressing and emotional time for Sawyer and everyone on his team, he remained hopeful that they would see Winter through that tough time and while be remained hopeful, he found out the reason the tail couldn't fit, he was always there for Winter.

STAY HOPEFUL

Sawyer's actions gave hope to the little girl from Atlanta, gave hope to his cousin, Kyle, other amputees around the world, saved the CMA facility and ultimately saved Winter from dying by restoring her ability to swim.

LOVE TRUIMPHS
In all, family always finds a way, every other may find a reason to say "NO", but family will be there always to support and strengthen you. Cheers to the family that stood the test of time, we are rather privileged to have them on our team, they make life worth living. CHEERS TO FAMILY FOREVER!
---
---
---
---
News
News
News